---
Local & Regional Fares
Canmore Local Routes 5C and 5T are Fare Free! Banff Local Fares apply to routes 1, 2, 4 and 6.
Regional Fares apply to routes 3, 8X, 8S, 9 and 10.
Whether you're visiting the sights or commuting to work, catch a ride on one of Roam's environment-friendly hybrid buses for a fun, convenient and inexpensive way to get around. Jump aboard and enjoy the views!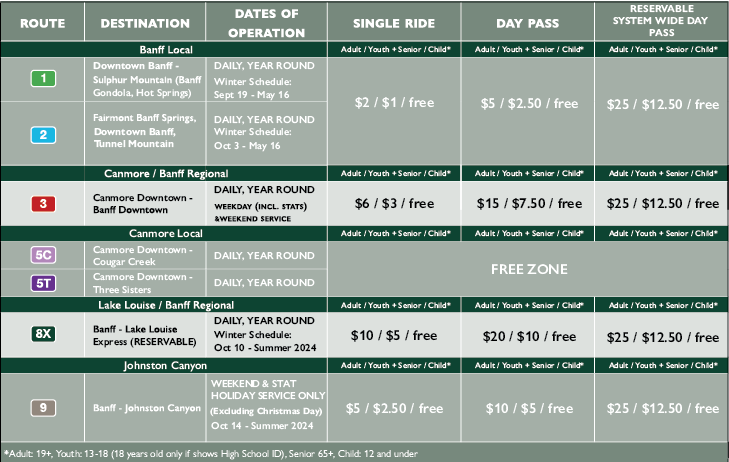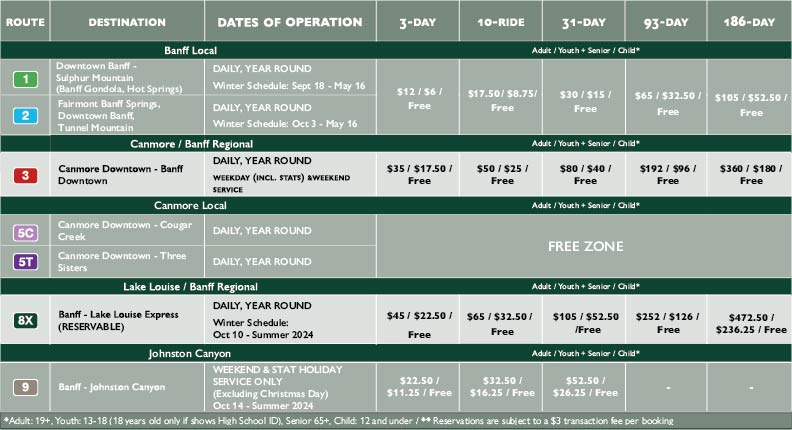 Please note all of our rates are in Canadian funds. Transit fares are GST exempt.
Children 12 and under are free.
Note to Parents and Guardians
While travel for children 12 and under is free, parents and guardians are responsible for educating and making decisions about the safety and care of their children whenever traveling on transit. This includes when children are traveling unaccompanied and determining if their children can or should take transit unaccompanied.
Tickets can be purchased in advance:
Using the Token Transit app
At the Roam Customer Service Desk (224 Banff Ave) - Inside the Banff Visitor Centre
From a ticket vending machine at the following locations:
Banff High School Transit Hub
Banff Elk West Transit Hub
Canmore 9th Street
Canmore Shoppers Drug Mart
Canmore Benchlands Trail Overpass
Lake Louise Lakeshore


As well as from the below vendors:
Banff Town Hall (110 Bear Street, Banff)
Rundle Gift Shop (319 Banff Avenue, Banff)
Canmore Civic Centre (902 7 Avenue, Canmore)
Shoppers Drug Mart Canmore (933 Railway Avenue, Canmore)
Rusticana Grocery (801 8th Street, Canmore)
Experience Louise - Samson Mall, Lake Louise

Each Roam bus is equipped with an electronic farebox which accepts our chip-enabled smartcards. It also accepts both Canadian and U.S. currency. However it does not return change nor accept pennies and bills larger than $20. Please have exact fare ready when boarding.

Reservations are available and encouraged for Routes 8X, Banff - Lake Louise Express. Make your Route reservation here.
Transfers on Banff local and regional Banff-Canmore services are available
Please refer to our
Transfer Policy
for full details.
Regional Travel Zones - Travel within a specific zone on Regional Route 3 with a Local transit pass:
Please refer to our
Regioinal Travel Zone information
for full details.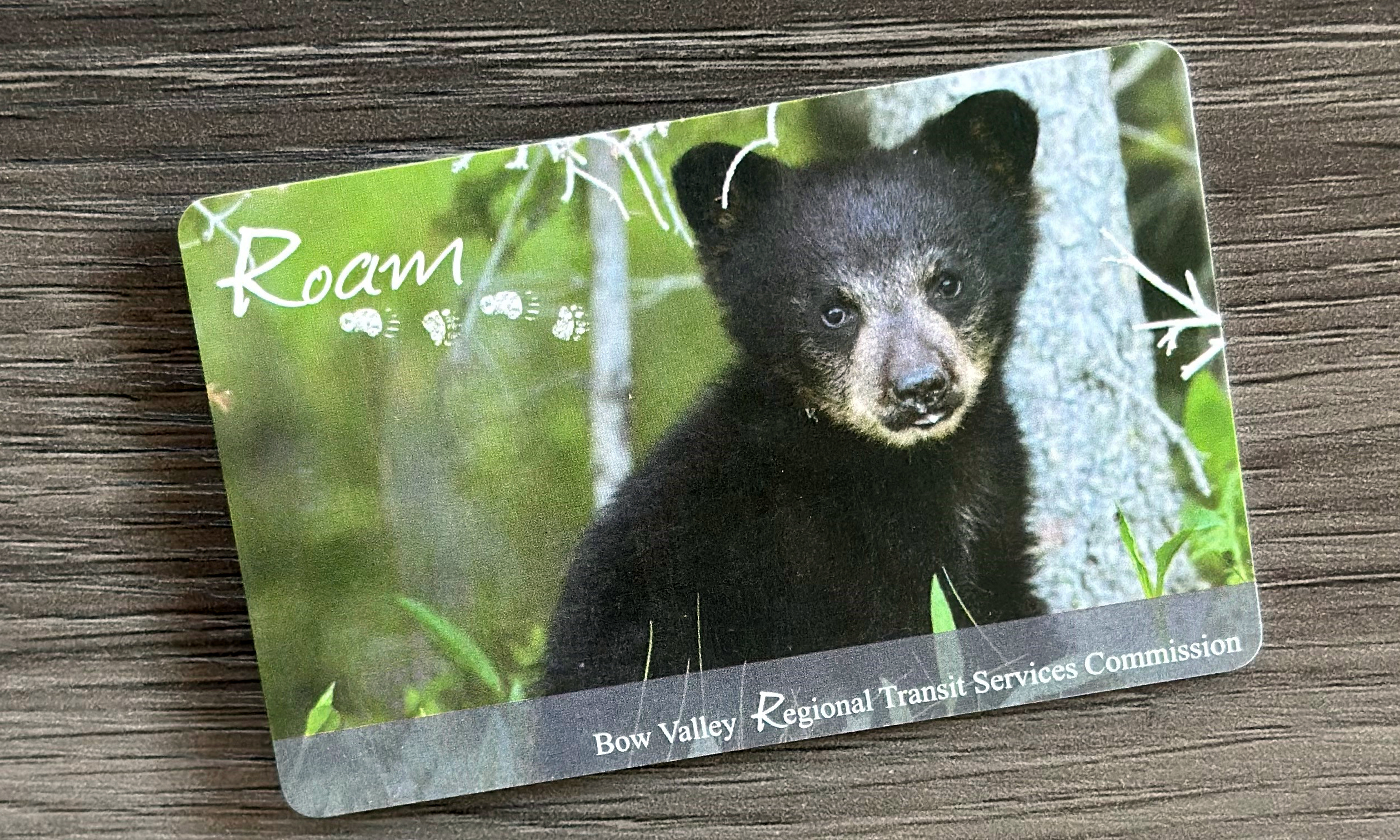 Smart Card Usage, Deposit, and Registration Information
The smart cards provided for use by the BVRTSC are the property of BVRTSC.
Protect your card.
There are no refunds or replacements for lost, stolen, cracked, or damaged cards.
Never punch a hole in your card for carrying on lanyards etc.
Keep your card in a safe and protected place.
More information on our Smart Card FAQ page.