---
Transfer Policy
Banff Local Service transfers
Transfers are available from the drivers for service between different local routes and are valid for 45 minutes.
Regional Service onto Banff and Canmore Local Service
Free 60 minute transfer onto the Banff and Canmore local service is included if you have paid for the Regional service.
a) Please ask for a Banff or Canmore local service transfer from the Regional service bus driver at the time of boarding the regional service.
b) Present this transfer to the Banff or Canmore local bus driver upon boarding the Banff or Canmore bus.
Regional 1 day, 3 day and 31 day monthly pass holders do not need a transfer when using the Banff or Canmore local service. Just tap on the Banff or Canmore local service using the pass.
From Banff or Canmore Local Service directly to Regional Service
No free transfers are available from the Banff or Canmore local service to the Regional service. However, you can pay for a Regional service ride when boarding the Banff or Canmore local bus.
For example, if you are planning to take the Regional Service to Canmore but your trip starts on the Banff local service, just pay the Banff local bus driver the regional fare and ask for a transfer on to the Regional service. The transfer is good for 60 minutes.


Pet Policy
Certified assistance animals are allowed on board at no charge. Owners of assistance animals should be prepared to show the animal's verification of training.
Passenger pets are allowed on board at no charge. All pets must be crated in a secure and clean carrier designed and intended for the carrying of animals which is small enough to fit on the owner's lap.
Passengers must hold onto the carrier at all times and are responsible for the safety of their pet. (If there is room on the bus, carriers may be placed beside you on the floor, but the carrier should not block the aisle or restrict passenger movement.)
The pet must remain inside the carrier at all times.


Bike Policy
Download the
Bikes on Buses
information sheet.


Lost and Found Policy
Download the
Lost and Found information/policy
sheet.


Smart Card Policy
Roam Public Transit fare products are non-refundable and non-replaceable if lost, stolen, or wilfully damaged. Only cards that have been registered via the roamtransit.com web site will be considered for replacement. Do not punch any holes in the pass; it will damage the embedded chip antenna and cause malfunction of the pass.
Cards that are considered defective (show no visual damage and cannot be queried on the card reader) will be replaced. Contact the Customer Service Centre for details.
Identification must be presented on request for the purchase of reduced rate passes (Senior, Youth, Child).


CNIB Identification Cards
CNIB photo identification cards are accepted on all Roam routes and enable complimentary travel for the card owner.


Regional Travel Zones
Bow Valley Regional Transit Services Commission is pleased to provide additional options for travel within the communities of Banff and Canmore.
Passengers may now use their Local Smart Cards, Token Transit, paper Day Passes, or pay $2 cash (adult), $1 cash (Senior/Youth) to travel on the Regional Route 3 service, within the local community that they board.
For example, if you need to get to the Regional Route 3 Hawk Ave stop in Banff from downtown Banff, you can now tap your Local Smart Card or pay your cash fare for travel to the Hawk Ave stop. In Canmore, if you would like to travel from the Regional Route 3 Legacy Trail stop, you can tap your Local Smart Card of pay your cash fare for travel to any other Regional Route 3 stop in Canmore.
Travel is only offered between existing Regional Route 3 stops – buses will not pick up or drop off passengers at local Roam stops.
Please make sure you are aware - The use of a Local pass on Regional Route 3 is only available for travel within the community zone where you boarded. Intentional travel between Banff and Canmore on Regional Route 3 using a Local pass may result in penalties and/or Trespassing charges.
Combine Regional Route 3 bus service with your community's Local service – come Roam with us!
See below for the Regional Travel Zones in Banff and Canmore.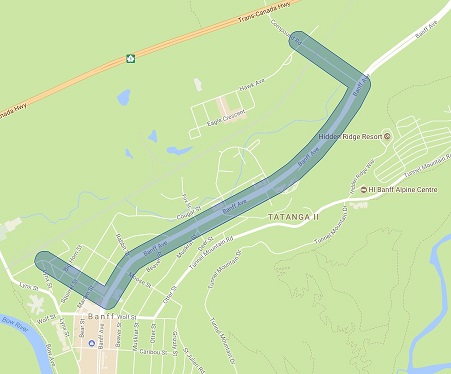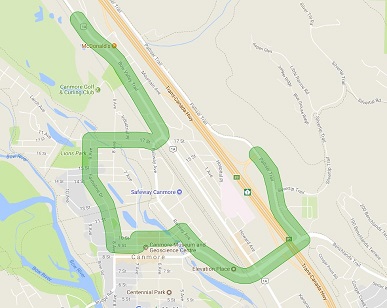 ---