Transfer Policy
Banff Local Service transfers
Transfers are available from the drivers for service between different local routes and are valid for 45 minutes.
Regional Service onto Banff and Canmore Local Service
Free 60 minute transfer onto the Banff and Canmore local service is included if you have paid for the Regional service.
- Please ask for a Banff or Canmore local service transfer from the Regional service bus driver at the time of boarding the regional service.
- Present this transfer to the Banff or Canmore local bus driver upon boarding the Banff or Canmore bus.
Regional 1 day, 3 day and 31 day monthly pass holders do not need a transfer when using the Banff or Canmore local service. Just tap on the Banff or Canmore local service using the pass.
From Banff or Canmore Local Service directly to Regional Service
No free transfers are available from the Banff or Canmore local service to the Regional service. However, you can pay for a Regional service ride when boarding the Banff or Canmore local bus.
For example, if you are planning to take the Regional Service to Canmore but your trip starts on the Banff local service, just pay the Banff local bus driver the regional fare and ask for a transfer on to the Regional service. The transfer is good for 60 minutes.


Bike Policy
Download the
Bikes on Buses
information sheet for detailed instructions on how to travel on Roam with your bike keeping other passengers, yourself and your bike safe.
Once you familiarize yourself with our policy, watch our short instructional video on how to mount your bike on the external bike rack.
Pet Policy - No change to current policy - Updated March 14th, 2023
Certified assistance animals are allowed on board at no charge. Owners of assistance animals should be prepared to show the animal's verification of training. An example of acceptable verification, similar out of province verification will also be accepted.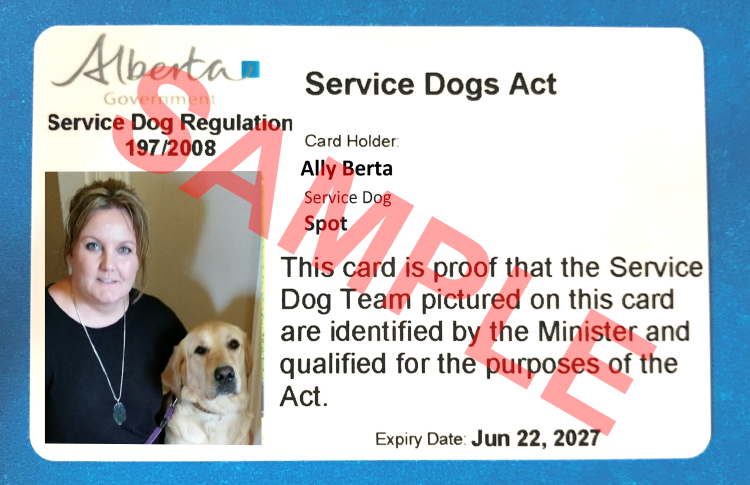 Passenger pets are allowed on board at no charge. All pets must be crated in a secure and clean carrier designed and intended for the carrying of animals which is small enough to fit on the owner's lap.
Passengers must hold onto the carrier at all times and are responsible for the safety of their pet. (If there is room on the bus, carriers may be placed beside you on the floor, but the carrier should not block the aisle or restrict passenger movement.)
The pet must remain inside the carrier at all times.
Strollers
Stroller size
Using a stroller that can easily fit and maneuver on a bus is very important. Some large recreational or tandem strollers do not fit on board and have the potential to pose a blockage issue. Due to this, you may not be able to ride or experience difficulty manoeuvring the stroller on the bus. Strollers should be a maximum 20 inches wide by 48 inches long (51 cm wide and 122 cm long).
On Roam
Assistance from Roam operators or other riders
Please notify the operator if you require assistance to board or exit a Roam vehicle. If the operator cannot assist, please understand. Another rider may be able to help.
Please remember to be courteous when requesting assistance from Roam operators or other riders.
Priority Seating
You may use the priority seating area immediately at the front of the bus, but remember that this area of the bus is also there for other riders with mobility challenges, walking or mobility aids, and service animals.
Please accommodate people with mobility challenges whenever possible and remember that persons with the least mobility get priority on our buses.
Safety First!
Your child must be safely secured with the belt or harness provided in your stroller.
Ensure that the brakes are on, and ensure that the stroller is not blocking the aisle.
Hold on to the stroller securely at all times during your trip.
Strollers should either face forward or toward you, but not cross-wise and jutting into the aisle as this poses a tripping hazard.
Please note that in very crowded conditions, the operator may ask you to fold the stroller and hold your child to make room for other passengers.
Luggage and Backpacks
We encourage riders to travel light, only take what you need!
Roam Transit cannot guarantee transportation of luggage any larger than that which can comfortably fit on your lap. You are required to manage all personal items without assistance from the operator, this includes being able to safely load and unload your items on and off the bus.
We do not have designated luggage storage on our buses. Luggage should be able to sit comfortably on your lap, or at your feet for the duration of your ride. Luggage should never take up an additional seat on the bus and must never block the aisles. If any item is identified by the operator as a potential safety risk, or, the service is at / nearing capacity, the operator has the right to refuse transportation with luggage.
Lost and Found Policy
Download the
Lost and Found information/policy
sheet.
Smart Card Policy
Roam Public Transit fare products are non-refundable and non-replaceable if lost, stolen, or willfully damaged. Only cards that have been registered via the roamtransit.com web site will be considered for replacement. Do not punch any holes in the pass; it will damage the embedded chip antenna and cause malfunction of the pass.
Cards that are considered defective (show no visual damage and cannot be queried on the card reader) will be replaced. Contact the Customer Service Centre for details.
Identification must be presented on request for the purchase of reduced rate passes (Senior, Youth).
CNIB Identification Cards
CNIB photo identification cards are accepted on all Roam routes and enable complimentary travel for the card owner.
Service Delay Policy
While every effort is made to adhere to the published schedule it may change without notice and Roam Transit assumes no liability whatsoever for any inconvenience or expense associated with interruptions, delays or cancellation of service arising from road closure or hazards, weather, traffic, mechanical breakdown, or conditions beyond its control and assumes no responsibility for acts or omissions of others.
Regional Travel Zones
Bow Valley Regional Transit Services Commission is pleased to provide additional options for travel within the communities of Banff and Canmore.
Passengers may travel on the Regional Route 3 service, (within the local community that they board) fare free.  When you board the bus please let your driver know that you are travelling locally.
For example, if you need to get to the Regional Route 3 Hawk Ave stop in Banff from downtown Banff, you can now board the bus and inform the driver that you intend to travel to the Hawk Ave stop. In Canmore, if you would like to travel from the Regional Route 3 Legacy Trail stop, you can inform your driver that you intend to travel to another Regional Route 3 stop in Canmore.
Travel is only offered between existing Regional Route 3 stops – buses will not pick up or drop off passengers at local Roam stops.
Please make sure you are aware - this travel offer is only available for travel within the community zone where you boarded.
Intentional travel between Banff and Canmore on Regional Route 3 without paying a fare may result in penalties and/or Trespassing charges.
See below for the Regional Travel Zones in Banff and Canmore.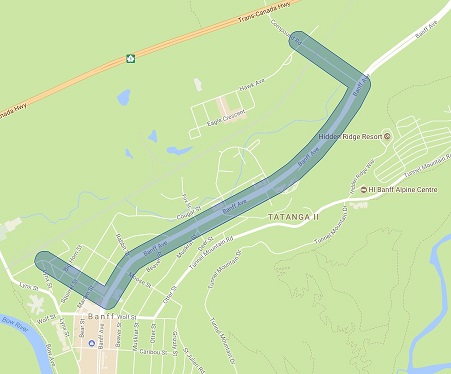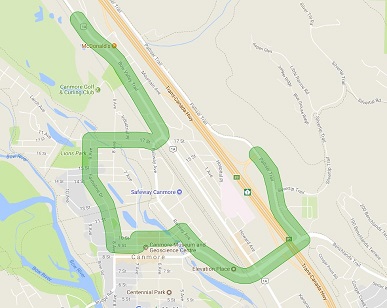 ---