---
Banff Local Service
Banff is the first municipality in Canada to introduce an all-hybrid electric transit fleet and continues to be a steward in environmental advocacy for the Bow Valley region.
In addition to being friendly to the environment, a special look has been incorporated as well. All buses are wrapped in authentic Banff National Park wildlife imagery, each featuring a unique backcountry view of mammals that roam Banff National Park and surrounding area: grizzly bears, goats, wolves, fox, moose, bighorn sheep and white-tailed deer.
The Roam transit routes cover much of Banff townsite, and there are bus stops near just about any spot you want to get to.
We operate three transit routes within the Town of Banff. See the Schedules & Routes page for detailed information about bus stops, arrival times and rates.
Transfer Policy - Bike Policy - Pet Policy - Smart Card Policy - Regional Travel Zones
Did you know:
Buses are environmentally friendly.
They provide a smoother, more comfortable ride.
They are bike friendly, can accommodate up to 72 passengers (32 seated and 40 standing) and are equipped with bike racks.
Strollers, skis and snowboards can ride the Roam as well.
Buses are also wheelchair friendly, with a fold-out ramp and low floor to assist getting on and off.
GPS real-time information system
You will notice LED signs at ten select stops around town. The GPS real-time information system is designed to tell you how long until the next bus arrives. No more waiting. No more guessing.
How to pay for your ride on Roam
Electronic fare boxes are on each bus. These will accept a variety of payment methods: Canadian and American bills and coins, Roam tokens, tickets and passes. In addition to daily passes, one-month, three-month and six-month passes are also available.
Low-income transit pass
Low-income transit passes are available through the Town of Banff Community Services department for the
Banff Roam local service only
. As a Town of Banff initiative, Banff town residents may be eligible through an application process. For more information or to register, please contact Community Services, Town of Banff 403 762 1251 or visit Banff Town Hall, 110 Bear Street.
Free transit passes provided when you stay at these Banff accommodations: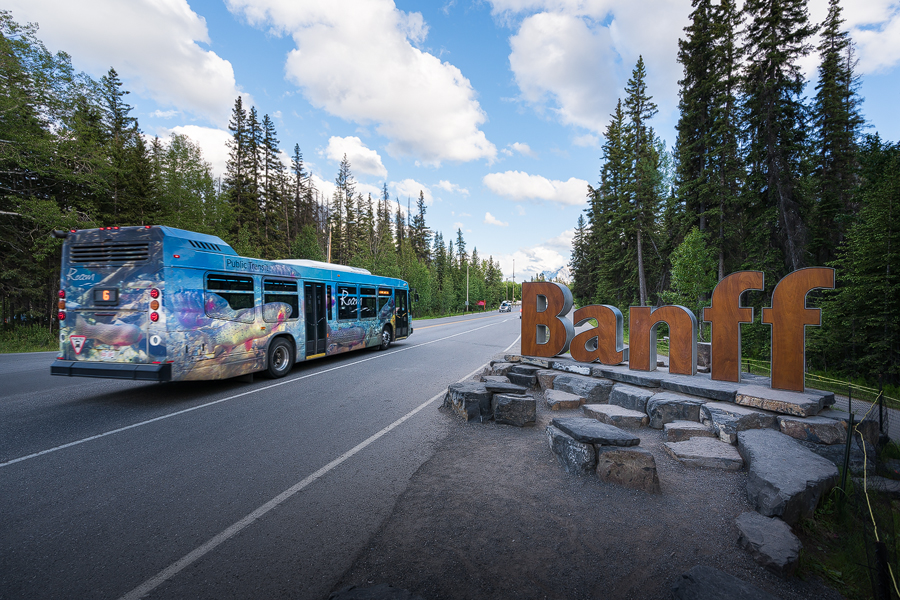 Did You Know?
On June 2, 2008, Banff became the first municipality in Canada to introduce an all-hybrid electric transit fleet.
---