---
Johnston Canyon - Starts June 21st, 2019 and last day of service is September 15th.
Roam Route 9 services the rugged and beautiful Johnston Canyon, one of Banff National Parks most popular destinations.
Route 9 departs the downtown Banff High School Transit Hub with a quick stop at the Banff Train Station and then on towards Johnston Canyon. There are 7 departures a day with service 7 days a week throughout the summer, starting June 21st.
Transfer Policy - Bike Policy - Pet Policy - Smart Card Policy
Frequently Asked Questions:
When is Johnston Canyon Route 9 scheduled to start?

Due to summer road construction on the 1A, Route 9 service starts June 21st, 2019

Where does the route go?

The route departs the downtown Banff High School Transit Hub, then stops at the Banff Train Station. From here the bus travels directly to Johnston Canyon. See here for a detailed route and bus stop map.

What time does service start/end?

The first departure time from downtown Banff will be 9AM, with service every 75 minutes throughout the day. The last departure from downtown Banff to the canyon departs the Banff High School at 5:15PM. The service will run 7 days a week during the summer months - from mid-June to the September 15th.

Where can I find a schedule?

The Minnewanka Route 6 schedule/brochure will be available on our web site as well as at our vendor locations.

Will there be service on statutory holidays?

Yes, there will be service provided on all statutory holidays.

Where are the bus stops, and what do they look like?

Bus stops are located at each dstination and will look like this. See our route and stop map for locations.

What does it cost to ride the Johnston Canyon service?

Johnston Canyon fares for 2019 are $4 for Adult and $2 for Seniors/Youth. Look here for detailed fare information.

Can I bring my bike on board?

Exterior bike racks are provided on all Roam service buses. Each bus can carry up to 3 bikes at a time. Look here for our Bike Policy, and scroll down for a short video on how to load your bike on the external bike racks.

Can I bring by pet on board?

Dogs and cats are allowed on Roam buses, as long as they are crated. Service dogs are welcome. See our Pet Policy here for details.

Can I bring my stroller on board?

Yes, strollers are welcome on board all Roam buses. We do require that the aisle is kept free and clear for all passengers. This may require strollers to be collapsed/folded while on the bus. Some larger strollers (Chariots for example) may not be permitted if they are too large when folded and block the middle aisle.

What do your buses look like?

Johnston Canyon Route 9 buses are fuel efficient fully accessible public transit buses. Keep an eye out for the uniquely wrapped Lynx, Marmot, and Grizzly Bear buses.

Are your buses wheelchair accessible?

Yes, all Roam buses are fully accessible with wheel chair ramp and kneeling capabilities to make getting on and off easier for everyone.
GPS real-time information system
You will notice LED signs at select stops around Banff - the number of LED signs will grow over time as we gather ridership details to indicate high-use stops. The GPS real-time information system is designed to tell you how long until the next bus arrives. No more waiting. No more guessing.
Does your stop not have an LED sign? No problem, you can still track your bus arrival online or using your smart device - just specify your route and stop.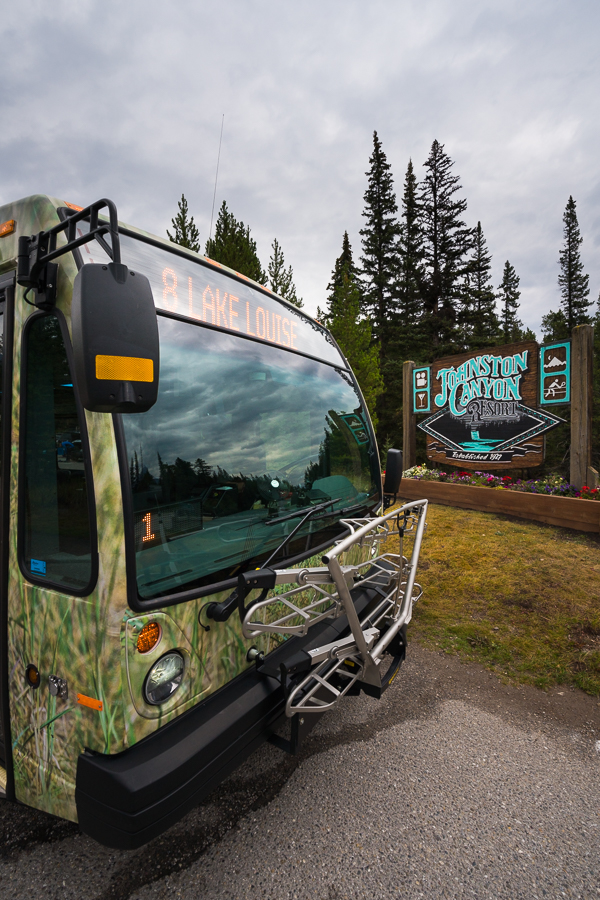 Did you know?
Johnston Canyon is one of Banff National Parks' most popular destinations. Choose to Roam direct to the canyon from Banff, and you'll avoid the stress associated with parking
---