---
Make sure you are prepared for low temperatures and winter trail conditions when heading out to explore Johnston Canyon. Please follow Parks Canada's recommendations on
Winter Walking
and check
Trail Conditions
information.
✕
Route 9 Johnston Canyon service
Direct service between Banff and one of the Banff National Park's most popular destinations via Castle Junction. This service operates daily in the Summer season until October 10th.
Starting October 15th until May 2023, the buses on this route operate as Weekend Only Service, i.e. Saturday-Sunday and statutory holidays, with the exception of Christmas Day (December 25th).
Transfer Policy - Bike Policy - Pet Policy - Smart Card Policy
Frequently Asked Questions:
When is Johnston Canyon Route 9 scheduled to start?

The Route 9 Johnston Canyon Service begins May 2022 operating daily until October 10th, 2022. From October 15th, throughout the Fall, Winter and Spring seasons, this service will run on Weekends only (Sat-Sun and stat days, except for Christmas Day, dec 25th).

Where does the route go?

The route departs the downtown Banff High School Transit Hub. From here the bus travels directly to Johnston Canyon via Highway 1 and Castle Junction.

What time does service start/end?

During the summer, the first departure time from downtown Banff will be 9AM. The last departure from downtown Banff is at 6:25PM. The service will run 7 days a week during the summer months when in service. Throughout the fall, Winer and Spring seasons, this service will run on the wekeends only (Sat-Sun and stat days, except for Christmas Day, dec 25th) with the first departure from downtown Banff at 8:30am. The last departure from downtown Banff is at 3:30pm.

Where can I find a schedule?

Schedules for all Roam services are posted online at roamtransit.com under "Schedules & Routes".

Will there be service on statutory holidays?

Yes, there will be service provided on all statutory holidays with the exception of Christmas day, Dec 25th.

What does it cost to ride the Johnston Canyon service?

Johnston Canyon fares for 2022/23 are $5 for Adult and $2.50 for Seniors/Youth & Children under 12 travel free.

Can I bring my bike on board?

Exterior bike racks are provided on all Roam service buses. Each bus can carry up to 3 bikes at a time. Look here for our Bike Policy, and scroll down for a short video on how to load your bike on the external bike racks.

Can I bring my pet on board?

Dogs and cats are allowed on Roam buses, as long as they are crated. Service dogs are welcome. See our Pet Policy here for details.

Can I bring my stroller on board?

Yes, strollers are welcome on board all Roam buses. We do require that the aisle is kept free and clear for all passengers. This may require strollers to be collapsed/folded while on the bus. Some larger strollers (Chariots for example) may not be permitted if they are too large when folded and block the middle aisle.

What do your buses look like?

Johnston Canyon Route 9 buses are fuel efficient fully accessible public transit buses. Keep an eye out for the uniquely wrapped Lynx, Marmot, and Grizzly Bear buses.

Are your buses wheelchair accessible?

Yes, all Roam buses are fully accessible with wheel chair ramp and kneeling capabilities to make getting on and off easier for everyone.
GPS real-time information system
You will notice LED signs at select stops around Banff - the number of LED signs will grow over time as we gather ridership details to indicate high-use stops. The GPS real-time information system is designed to tell you how long until the next bus arrives. No more waiting. No more guessing.
Does your stop not have an LED sign? No problem, you can still track your bus arrival online or using your smart device - just specify your route and stop.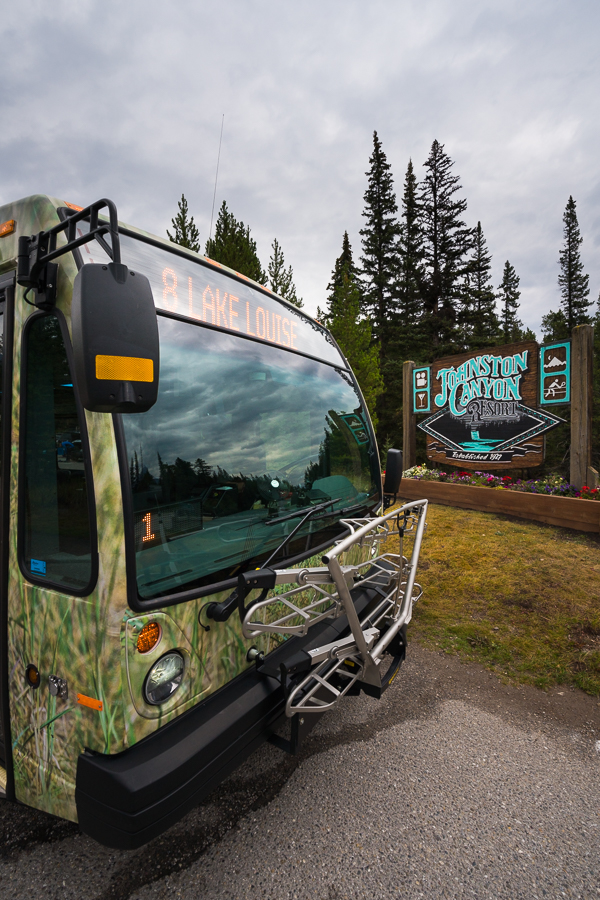 Did you know?
Johnston Canyon is one of Banff National Park's most popular destinations. Choose to Roam direct to the canyon from Banff, and you'll avoid the stress associated with parking
---