---
Canmore Local Service
Canmore Local (Routes 5T & 5C) is fare free!
Roam Route 5 services many areas of Canmore using two separate routes. Route 5C services the Cougar Creek area of town, and the 5T provides service to the Three Sisters area. Each route departs from the downtown 9th Street Transit Hub (by artsPlace) seven days a week. Watch for the buses wrapped in authentic Bow Valley wildlife imagery around town and at a stop near you.



Transfer Policy - Bike Policy - Pet Policy - Smart Card Policy - Regional Travel Zones



Canmore Local Service - Frequently Asked Questions:
Where does the route go?

The routing for Canmore Route 5 uses two different buses to travel to the Cougar Creek (5C) area and Three Sisters (5T) area. You can download a PDF of the route map by clicking the large button at the top of this page.

What time does service start/end?

Generally, the service starts at 6am and runs until 11pm.

Where can I find a schedule?

The Canmore Route 5 schedules are available here as well as at our Canmore vendor locations.

Will there be service on statutory holidays?

Yes, service is provided on all statutory holidays.

Where are the bus stops, and what do they look like?

Bus stops are located in convenient spots throughout Canmore. See our route and stop map for locations.

What does it cost to ride Canmore local service?

Canmore Local Routes 5T & 5C are Fare Free for all.

Can I bring my bike on board?

Exterior bike racks are provided on all Canmore local service buses. Each bus can carry up to 3 bikes at a time. Look here for our Bike Policy, and scroll down for a short video on how to load your bike on the external bike racks.

Can I bring my pet on board?

Dogs and cats are allowed on Roam buses, as long as they are crated. See our Pet Policy here for details.

Can I bring my skis/snowboard/stroller on board?

Yes, skis/snowboard/strollers are welcome on board all Roam buses. We do require that passengers hold onto their skis and snowboards throughout the trip, and that the aisle is kept free and clear for all passengers. This may require strollers to be collapsed/folded while on the bus.

What do your buses look like?

Keep an eye out for the Cougar bus, the Lynx bus, and the Fox bus.

Are your buses wheelchair accessible?

Yes, all Roam buses are fully accessible with wheel chair ramp and kneeling capabilities to make getting on and off easier for everyone.
GPS real-time information system
You will notice LED signs at ten select stops around town. The GPS real-time information system is designed to tell you how long until the next bus arrives. No more waiting. No more guessing.






Low-income transit pass
Low-income transit passes are available through the Town of Canmore's Affordable Services Program for the Canmore Roam Regional service. As a Town of Canmore initiative, Canmore residents may be eligible through an application process. For more information or to register, please visit the Town of Canmore Affordable Services Program web page, call 403.609.3743 or email fcssadmin@canmore.ca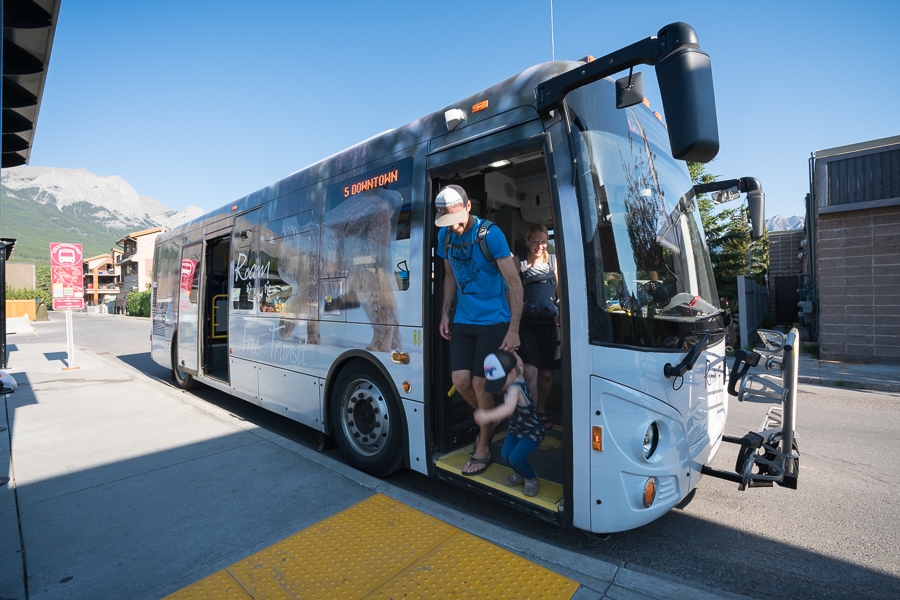 Did you know?
Canmore local service is FREE to ride!. Service extends from Three Sisters to Cougar Creek and all buses are fully accessible with room for up to 3 bicycles.
---