---
Canmore Local Service
Roam Route 5 services many areas of Canmore, running from the Cougar Creek area to Three Sisters, seven days a week. The weekends see additional service to the Canmore Nordic Centre. Watch for the buses wrapped in authentic Bow Valley wildlife imagery around Town and at a stop near you.
Starting May 18, 2019, Canmore Local (Route 5) is free for riders to use! It will be free until Dec. 31, 2019. For info on pass refunds, please go to: roamtransit.com/2019/05/roam-free-on-canmore-local-until-dec-31-2019/
Transfer Policy - Bike Policy - Pet Policy - Smart Card Policy
Canmore Local Service - Frequently Asked Questions:
Where does the route go?

The routing for Canmore Route 5 remains largely unchanged, however there are two main routing changes for both weekday and weekend service.
The first includes new routing and bus stop locations along Grotto Way and Grotto Road.
The second is the extension of the route to the Stewart Creek traffic circle in Three Sisters area.

What time does service start/end?

Service start and end times vary a little depending on weekday or weekends. Generally, the service starts weekday mornings at 6am, and Saturday service starts at 8am, and Sunday service starts at 8am. Service end times also vary slightly depending on the day of the week. Weekday service runs until 11pm, Saturday and Sunday service runs until 8pm.

Where can I find a schedule?

The Canmore Route 5 schedule is available here as well as at our Canmore vendor locations.

Will there be service on statutory holidays?

Yes, there will be service provided on all statutory holidays - however the service provided will be a Sunday schedule service - meaning route/schedule on a statutory holiday will match Sunday service.

Where are the bus stops, and what do they look like?

Bus stops are located throughout Canmore and will look like this. See our route and stop map for locations.

What does it cost to ride Canmore local service?

Canmore local service fares have not changed - $2 for Adult cash fare, with discounts for monthly passes, 10 ride passes, day passes etc. Look here for detailed fare information.

Can I bring my bike on board?

Exterior bike racks are provided on all Canmore local service buses. Each bus can carry up to 3 bikes at a time. Look here for our Bike Policy, and scroll down for a short video on how to load your bike on the external bike racks.

Can I bring by pet on board?

Dogs and cats are allowed on Roam buses, as long as they are crated. See our Pet Policy here for details.

Can I bring my skis/snowboard/stroller on board?

Yes, skis/snowboard/strollers are welcome on board all Roam buses. We do require that passengers hold onto their skis and snowboards throughout the trip, and that the aisle is kept free and clear for all passengers. This may require strollers to be collapsed/folder while on the bus.

What do your buses look like?

Keep an eye out for the Cougar bus, the Lynx bus, and the Fox bus.

Are your buses wheelchair accessible?

Yes, all Roam buses are fully accessible with wheel chair ramp and kneeling capabilities to make getting on and off easier for everyone.
GPS real-time information system
You will notice LED signs at ten select stops around town. The GPS real-time information system is designed to tell you how long until the next bus arrives. No more waiting. No more guessing.
How to pay for your ride on Roam
Electronic fare boxes are on each bus. These will accept a variety of payment methods: Canadian and American bills and coins, Roam tokens, tickets and passes. In addition to daily passes, one-month, three-month and six-month passes are also available.
Low-income transit pass
Low-income transit passes are available through the Town of Canmore's Affordable Services Program for the Canmore Roam local service and Regional service. As a Town of Canmore initiative, Canmore residents may be eligible through an application process. For more information or to register, please visit the Town of Canmore
Affordable Services Program
web page, or call 403-678-1500.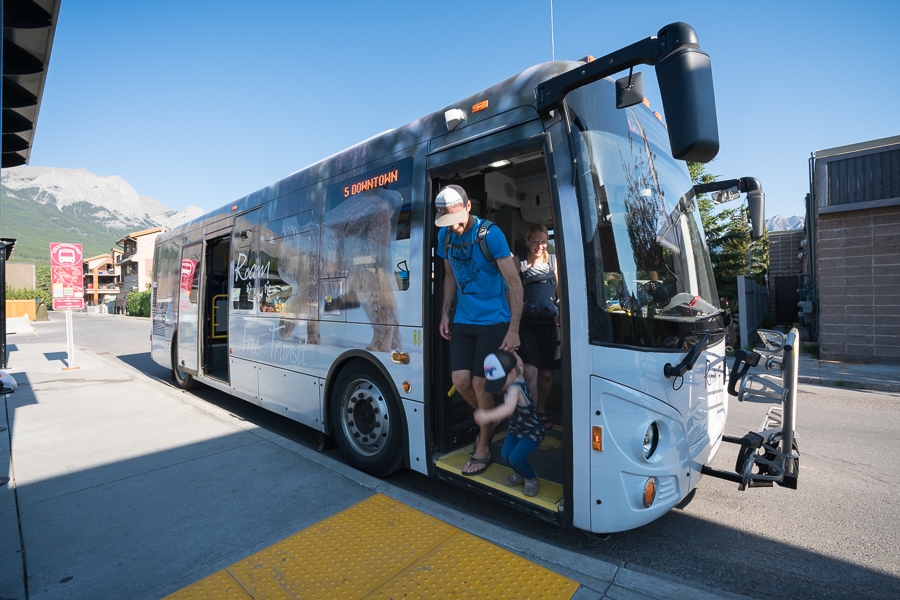 Did you know?
Canmore local service extends from Three Sisters to Cougar Creek and all buses are fully accessible with room for up to 3 bicycles.
---